MPT-21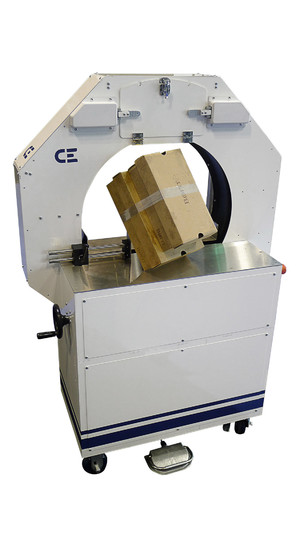 MPT-21
16"H x 21"W
Print manufacturing tends to be a particularly harsh production environment. 24 hour per day production cycles, less than ideal preventative maintenance schedules, paper dust and ink everywhere, and immovable deadlines. Equipment needs to run and run; easily and reliably.
Print is where Controls Engineering built the first stretch film bander.
---
Immediate benefits of using the MPT-21 stretch film bander.
Cost savings
The MPT-21 is designed and manufactured to require NO PREVENTATIVE maintenance. By using the highest quality, precision machined components, each CE Bander can perform even under the most demanding production environments.
Reliability
MPT-21 banders are designed, manufactured and assembled here in the United States of America. Industrial grade components, exacting design and manufacturing standards are behind the trouble free operation and performance.
Simplicity
Designed for entry level employees to operate with only minutes of training.
Speed
20 bundles per minute, 24 hours per day operation.
10 second roll changes help keep the bander doing what it does best; keeping your line running.
Versatility
CE Reactive Tension Control System gives you the ability to band a single brochure and still give the strength to securely hold a 20lb mail bundle.
A small footprint, 110V power and standard house air allow this bander to move easily from workstation to workstation.
Sustainability
MPT-21 banders use 100% recyclable LLDPE banding material that can be comingled with existing stretch film recycling programs.